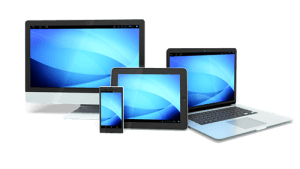 Is your website Mobile Friendly?
Today people expect a website to be mobile friendly and easy to use. It's the first experience your customer has when visiting your website. Have you visited a website that's hard to read? Did you have to pinch the screen to make the text viewable? It's frustrating for everyone.

If
your website doesn't view or load correctly your users will leave and not return. You have less than 5 seconds to grab their attention. Use those seconds wisely to help your customer find your services/products.

The solution is to create a stylish but mobile friendly website, which conforms to any device, known as responsive design. If you have been researching website design or trying to find someone to build you a site, you have undoubtedly heard the term "responsive website design".  This may lead you to consider is there a difference between mobile websites verses a responsive website design?  Yes, there's a difference; however, the end result should be a functional website for customers on a desktop, laptop, mobile device, or tablet.

Key Elements for a Mobile-friendly website:

1. Website text, images, and menus readable

2. Expandable images. Short menus.

3. Website pages load fast
4.
Easily
directed to content

5. Encourage users to explore further

6. Prominent Call to actions

7. Shortcuts to important content

8. C
lickable

Phone numbers
9. Clickable maps for directions

A responsive website is a website with a layout that changes based on the visitor's device. The website is built with a structure which changes as the device changes, and you only have one website to maintain. The text, images, padding and spacing, and columns will change to be viewed properly on your viewing device. Navigation menus are condensed and are easier to use as well.
In contrast a mobile websites is one separate design working the same way across devices. This means that design features do not change, for example, the navigation and drop-down menus are limited and can make it difficult to use. Text, images, and columns are static and cannot be changed.  Mobile websites require you to keep up two designs; desktop and mobile.
Although, mobile website designs can be achieved with several techniques, the proper technique is a responsive design which follows Google's best practices for better ranking performance.
Google implemented "Mobile First" standards for all websites indexed on this major search engine. It's critical to have a mobile friendly site that is optimized for all devices, to ensure your website is indexed.

Mobile friendly websites will keep your customer on the website longer improving your bounce rate and conversion rate. Major search engines look for ranking signals such as, browser sessions, bounce rates, conversion rates, and number of visitors. Enhancing your customer's experience will ensure a better return on your investment.

We want your website to last for many years and give you a polished, beautiful, and modern look for today's competitive market!